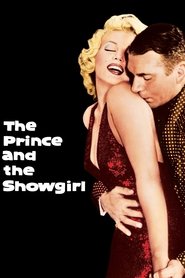 The Prince and the Showgirl (1957)
June, 1911. Among the dignitaries from the Balkan State of Carpathia in London for the coronation of King George V and Queen Mary is the Regent, His Serene Highness the Grand Duke Charles. The London foreign office places great importance on Carpathia because of an unstable geopolitical situation with Kaiser Wilhelm of Germany set to overthrow its monarchy government if allowed. The Regent, a Prince originally from Hungary, and the most recent and now deceased Queen married for convenience. As such, the Regent has spent time with a series of lady friends while on his travels in his somewhat "free" state. In meeting one of those London women, music hall actress Maisie Springfield, and the company of her current production "The Coconut Girl", the Regent instead has his eyes set on one of the minor players in the show, American actress Elsie Marina. When seemingly simpleminded Elsie receives a party invitation from the Regent for that evening, Elsie is not so simpleminded to understand the implications when she learns upon her arrival at the Carpathian Embassy where the Regent and the Carpathian entourage are staying that the party is just for two. On the Regent's relatively short stay in London, he and Elsie go through a series of feelings in their relationship, where the Regent just wants to have some fun, while Elsie doesn't mind fun within a proper context, which means no dinners for two without some formal getting to know each other period. Elsie gets caught up in the diplomatic and geopolitical side of the issues when she inadvertently meets the other two royal members of the Carpathian entourage. The first is the Queen Dowager, the Regent's mother-in-law, who isn't as hard of hearing as she lets on in the carrying out of her duties. The second is Nicholas VIII, the sixteen year old current King and the Regent's son, who will take over official duties when he becomes of age in eighteen months, and who, unlike his father, is sympathetic both to the democratic process in wanting free elections in Carpathia and to the Germans to who he is related on his mother's side. All these goings-on make for a difficult few days for Northbrook, the foreign office's envoy who has just temporarily taken over this file.
Duration: 115 min
Quality: HD
Release: 1957
Description: Some countries have a medal for Everything.
6.7