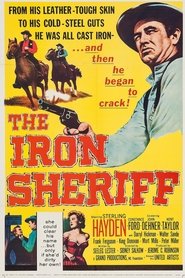 The Iron Sheriff (1957)
In 1891, in a small town in South Dakota, a stagecoach is robbed and the driver is killed. A small fortune in silver dollars has disappeared. The only suspect is Benjamin 'Benjie' Galt, the son of Sheriff Samuel 'Sam' Galt. The lad claims he's innocent but circumstances and a few witnesses place him at the scene of the murder-robbery. Heart-broken but honest, Sheriff Galt arrests his own son and prepares for the trial by hiring the best lawyer in the country to defend Benjie. The Sheriff also hires a local detective to investigate the scene of the stagecoach robbery and possibly dig up any new evidence or witnesses to help clear Benjie of the crime. However, when a silver dollar from the stage robbery loot turns up in the local saloon, the trail leads straight to Benjie.
Duration: 73 min
Quality: DVD
Release: 1957
Description: The whole town crawled under his gun...
6.0