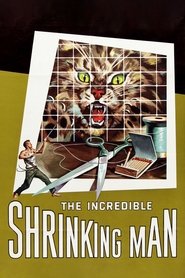 The Incredible Shrinking Man (1957)
Scott Carey and his wife Louise are sunning themselves on their cabin cruiser, the small craft adrift on a calm sea. While his wife is below deck, a low mist passes over him. Scott, lying in the sun, is sprinkled with glittery particles that quickly evaporate. Later he is accidentally sprayed with an insecticide while driving and, in the next few days, he finds that he has begun to shrink. First just a few inches, so that his clothes no longer fit, then a little more. Soon he is only three feet tall, and a national curiosity. At six inches tall he can only live in a doll's house and even that becomes impossible when his cat breaks in. Scott flees to the cellar, his wife thinks he has been eaten by the cat and the door to the cellar is closed, trapping him in the littered room where, menaced by a giant spider, he struggles to survive.
Duration: 81 min
Quality: HD
Release: 1957
Description: A fascinating adventure into the unknown!
7.7