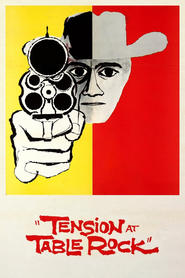 Tension at Table Rock (1956)
A reluctant gunslinger tires of having to defend himself at every cow town he visits, so he adopts an alias and continues his wandering. At an outpost run by a father and young son, he gets involved with a robbery in progress, and agrees to take the son to the boy's uncle, a sheriff in Table Rock, for his safety. Once there he finds the town gearing up for the arrival of a cattle drive and the unruly cowboys. He strives to remain uninvolved as the sheriff tries to get his help with the cowboys, but the sheriff nurses bad memories from an earlier incident that may threaten his effectiveness.
Duration: 93 min
Quality: HD
Release: 1956
Description: A man like Shane... the suspense of High Noon...
6.6