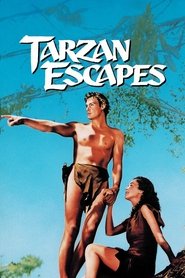 Tarzan Escapes (1936)
Jane's cousins Rita and Eric Parker arrive in Africa searching for her. Their uncle has died and has left her half a million pounds provided she agrees to return to civilization. A professional hunter, Captain Fry, quickly agrees to escort them to the escarpment where rumor has it there there lives a great white ape. He's intrigued when told that the great white ape is likely Tarzan and his plan is to capture him and put him on display. When they all find each other, Jane agrees to return to London if only to ensure that her cousins get their late uncle's wealth. Fry manipulates Tarzan into believing that Jane will never return only to trap him. When Jane and the others are taken prisoner by warring tribesmen, it's left to Tarzan to rescue them.
Duration: 89 min
Quality: HD
Release: 1936
Description: It's New! It's amazing! 2 years to produce!
7.0