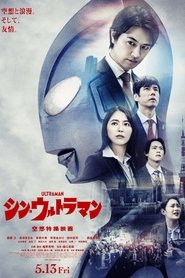 Shin Ultraman (2022)
The Japanese government sets up a special task force to fight the giant creatures suddenly appearing across the country. Soon, the squad unexpectedly meets a giant silver humanoid who starts appearing every time a space monster attacks!
Views: 24
Genre: Action, Adventure, Drama, Sci-Fi
Director: Shinji Higuchi
Cast: Akari Hayami, Daiki Arioka, Hajime Yamazaki, Hidetoshi Nishijima, Issey Takahashi, Keishi Nagatsuka, Kenjiro Tsuda, Kôichi Yamadera, Kôji Yamamoto, Kyûsaku Shimada, Masami Nagasawa, Ryô Iwamatsu, Sôkô Wada, Takumi Saitô, Tetsushi Tanaka, Tôru Masuoka, Yutaka Takenouchi
Country: Japan
Duration: 112 min
Quality: 720p HD
Release: 2022
Description: Have you become so fond of humans, Ultraman?
6.1