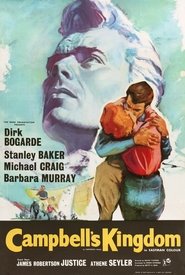 Campbell's Kingdom (1957)
Bruce Campbell arrives in Canada to take over his grandfather's inheritance, an area on the Rockies know as Campbell's Kingdom. Told by doctors he has a short time to live he just a wants to live quietly up at his grandfathers house in peace. But he soon learns that a dam is being build that will flood Campbell's Kingdom. After locals who gave money to his grandfather believing there to be oil but losing their money, they all want the dam to be build to give them jobs. Bruce given a letter from his grandfather that says he believes there is oil in Campbell's Kingdom, which would stop the work on the dam. Bruce decides to try and clear his grandfathers name and his claim about the oil. In the progress he has to face the forces of nature and ruthless contactor Owen Mogan.
Duration: 102 min
Quality: HD
Release: 1957
Description: Rugged Wildcatters...Fighting the Treacherous Might of the Canadian Rockies!
6.3