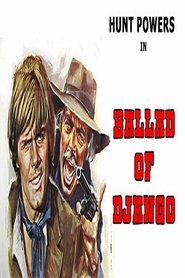 Adios Compañeros (1971)
Macho Callaghan is a lieutenant in the Federal Guards and his job is to capture Butch Cassidy, Ironhead, and their band of outlaws. Getting in touch with Ironhead, Macho finds a way of being hired by the outlaws. But when the two leaders quarrel and decide to separate, Macho manages to convince Ironhead to attack Butch Cassidy.
Views: 21
Genre: Western
Director: Demofilo Fidani
Cast: Alessandro Perrella, Amerigo Castrighella, Benito Pacifico, Enzo Pulcrano, Giancarlo Prete, Giglio Gigli, Gordon Mitchell, Grazia Giuvi, Jack Betts, Jeff Cameron, Klaus Kinski, Luciano Conti, Manlio Salvatori, Pietro Fumelli, Pino Polidori, Renzo Arbore
Country: Italy
Duration: 88 min
Quality: HD
Release: 1971
Description: The deadliest guns in all the West are about to be silenced.
6